IBM POWER9 Processor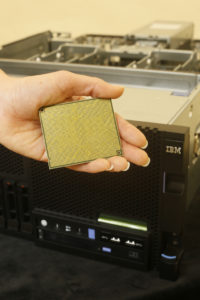 POWER9 are a family of superscalar symmetric multiprocessors based on the Power Architecture, and introduced in August 2016, at the Hot Chips conference. The POWER9 based processors will be manufactured using a 14 nm FinFET process, and will come in at least four versions; 12- and 24-core versions for scale out and 12- and 24-core versions for scale up applications, and possibly more since the POWER9 architecture is open for licensing and modification by the OpenPOWER Foundation members.
Systems using POWER9 are slated to be available in 2017.
 POWER9 devices will be targeting two different markets, the scale-out and scale-up markets, each variant come in 12- and 24-core versions:
IBM POWER9 SO – scale-out version, optimized for dual socket computers with up to 120 GB/s bandwidth to directly attached DDR4 memory (targeted for release in 2017)
IBM POWER9 SU – scale-up version, optimized for four sockets or more, large NUMA machines with up to 230 GB/s bandwidth to buffered memory
The United States Department of Energy together with Oak Ridge National Laboratory and Lawrence Livermore National Laboratory have contracted IBM and Nvidia to build two supercomputers, the Summit and the Sierra, that will be based on POWER9 processors coupled with Nvidia's Volta GPUs. These systems are slated to go online in 2017.